Therefore, many in the remote working space wonder how to transform a limited space in their house into a place where you'd be content to work for hours.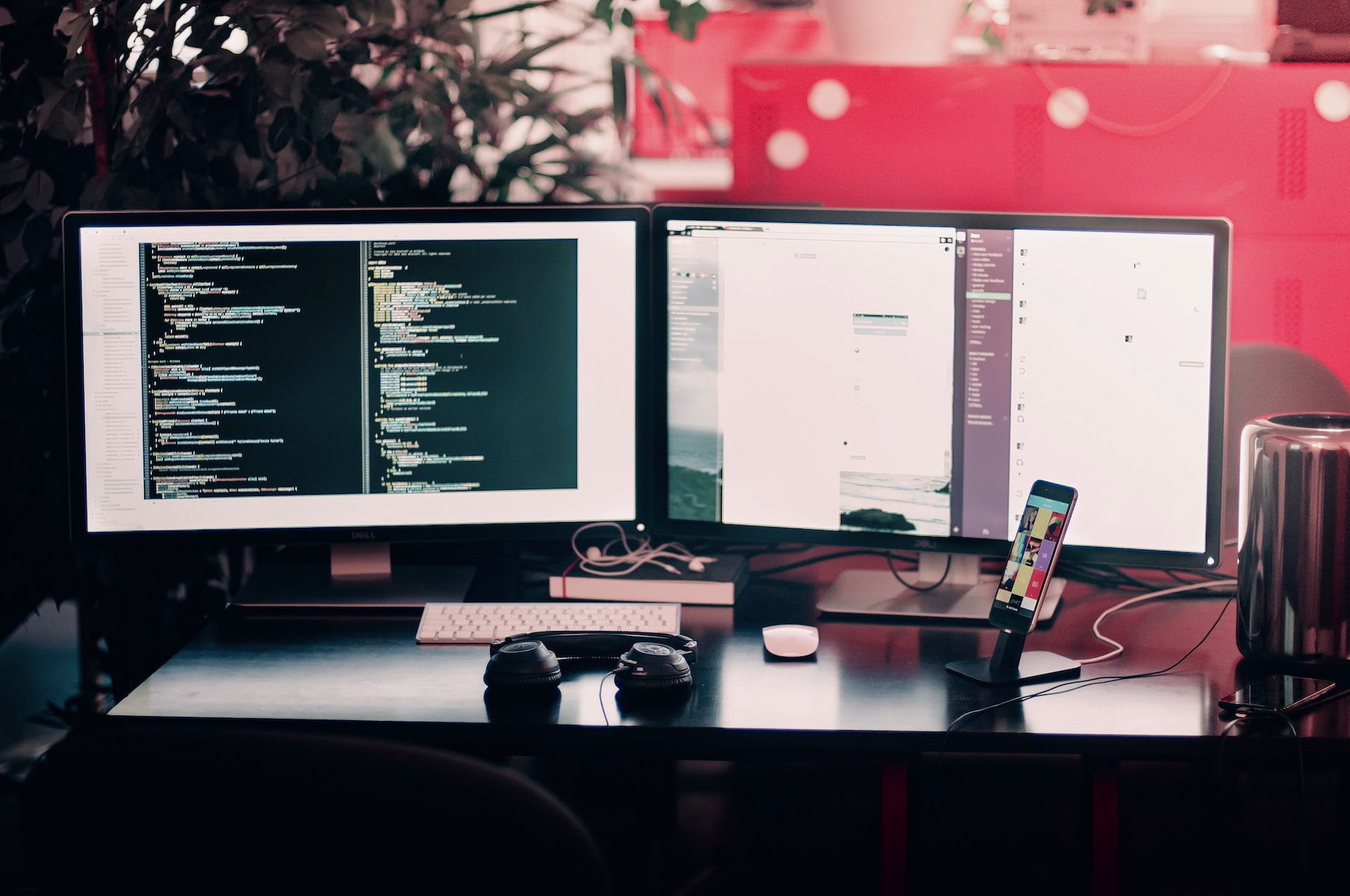 If you wish to maintain your productivity, comfort, and health at home, you need a detailed and practical answer to this question.
This guide covers the top products designed to help professionals decide the best table for a small space.  
What shape table is best for a small space?
Midcentury Art Display Mini Desk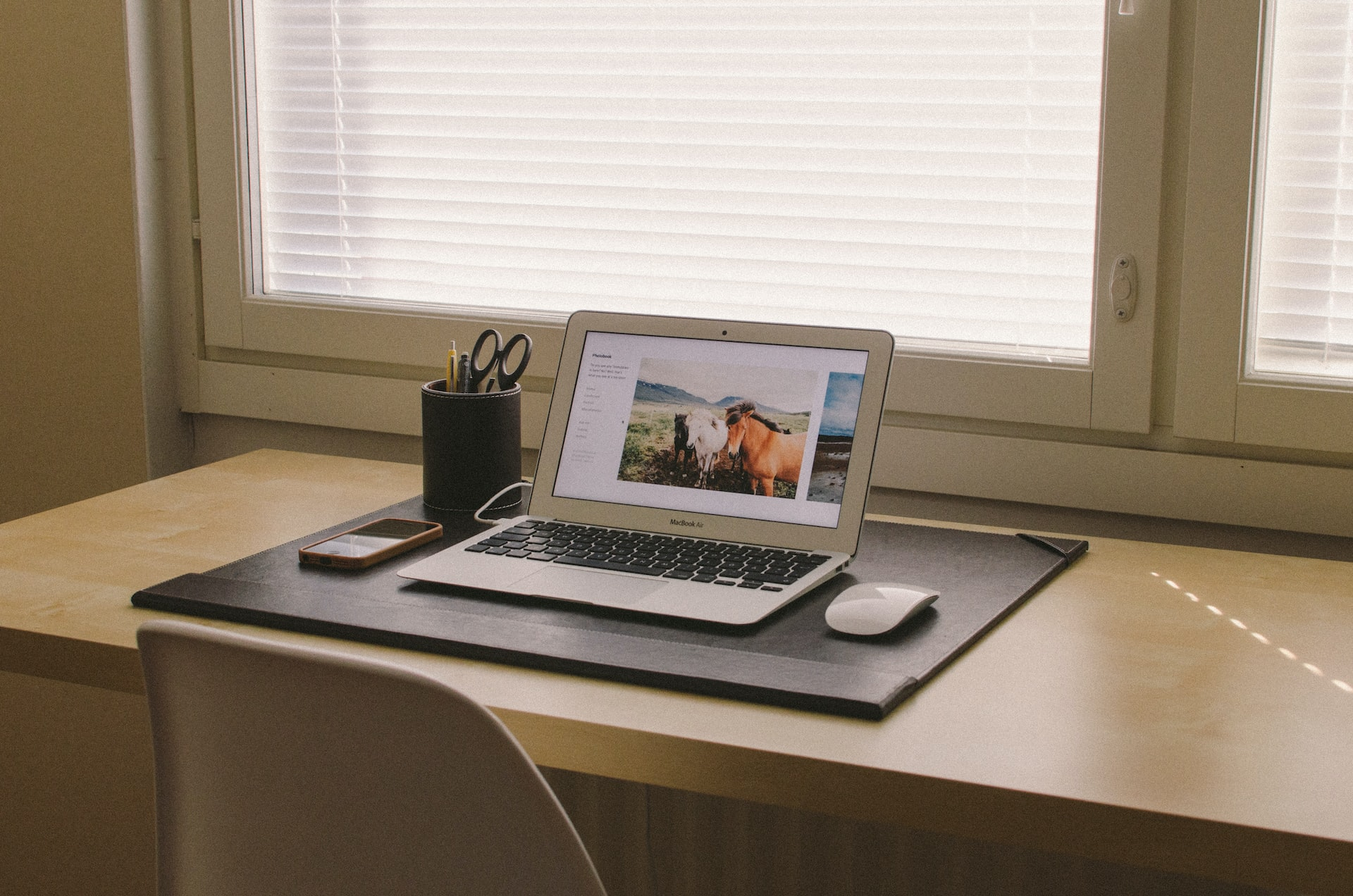 Photo by Aleksi Tappura on Unsplash
This two-tiered, airy Mid-Century Art Display Mini Desk allows you to write, browse, or check your email anywhere—in your bedroom, sitting room, or bar area. It's the perfect cozy office or convenient setup. The Mid-Century is quite distinct because it has two levels serving different purposes. 
Critical details on this unique desk include:
Top made of tempered glass.

Dark Walnut: Shelving unit constructed of engineered wood and finished to look like dark walnut with walnut veneer.

Cloud: Cloud-finished wood veneer making a wooden bottom shelf.

The steel structure is available in either a Dark Walnut (Antique Brass) or a Cloud (Light Bronze) powder coat.

This product is of contract quality and was made to withstand commercial and domestic rigors.
Additional Features
Mixed Materials: The different materials work well together, especially metal, glass, and wood.

Open Storage: Display your favorite items while keeping them within easy reach.
2-Tier Folding Desk
Almost two years past the pandemic, you may quickly and affordably redesign your home office without paying a fortune. A folding computer desk is an example of the many low-cost and space-saving items available for those with limited space.
Most people go for a 2-tier folding desk because it is compact yet roomy, portable, and sturdy for the office or classroom. It boasts a two-tiered design with a wood top and solid, wobble-free metal legs to accommodate monitors, computers, coffee cups, journals, plants, and other items. The folding, space-saving table may be stashed in a closet, a corner, or even concealed beneath a bed or sofa. It's also available in your choice of three various shades and requires no assembly before usage.
Adjustable Desk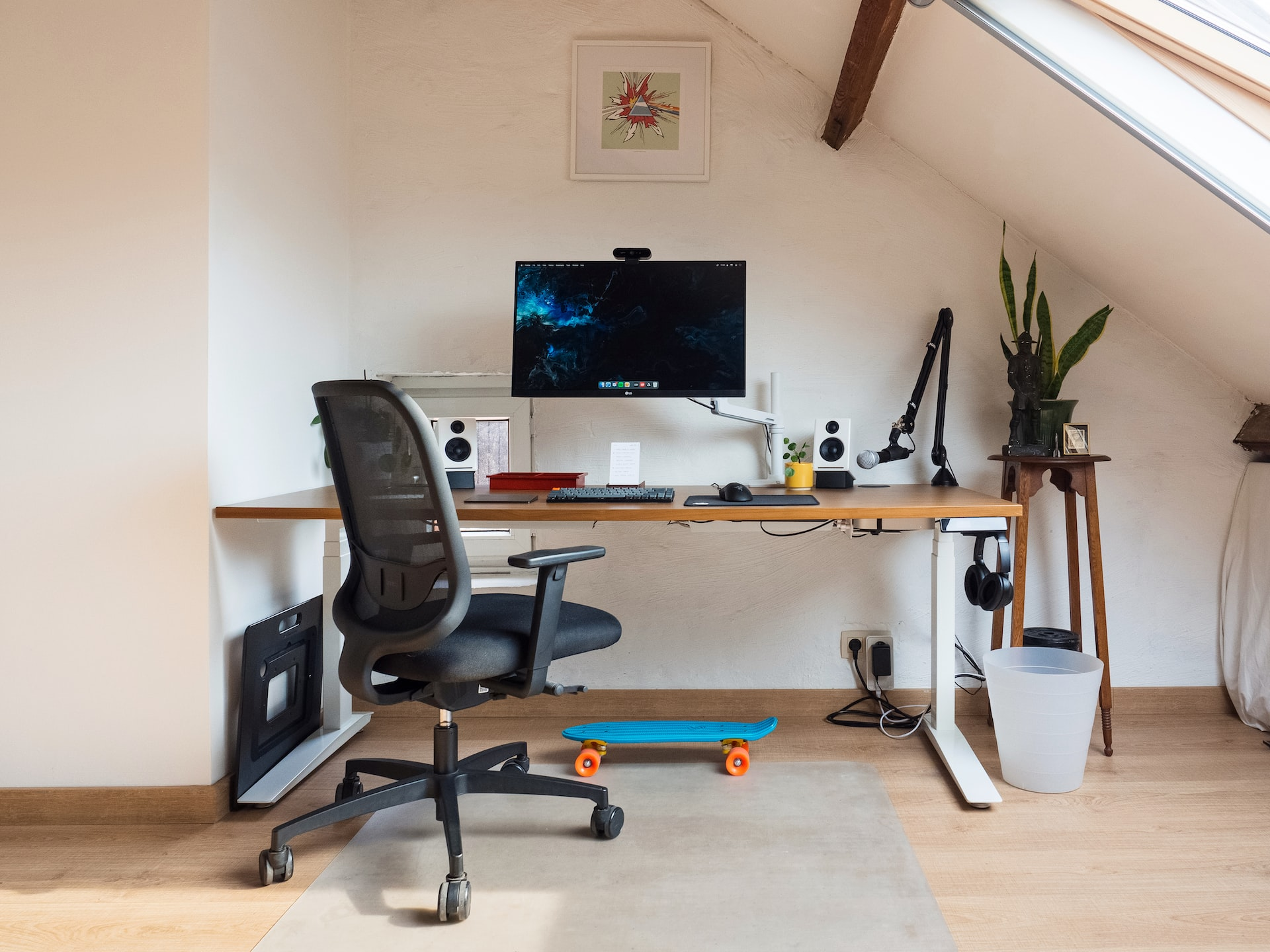 Photo by Arthur Lambillotte on Unsplash
The LEVODESK, a height-adjustable desk, will be the ideal focal point for your working environment. It is an authentic, practical, and smart height-adjustable desk that sets the benchmark in the ergonomic industry.
This standing desk will unquestionably alter your workstation while enhancing efficiency and health due to its amazingly streamlined style and cutting-edge technology. With this sit-stand desk, you can rest assured that you are purchasing a durable desk.
Additional Features
Superior quality sintered stone top
Top-quality sintered stone is used in its construction, and the edges are rounded off to give the table a contemporary, simplistic look.
Only natural minerals are used to make these sintered stone table tops, which make them nearly impossible to break and more durable than marble. They can be used every day and will last for a lifetime. For this reason, it is impervious to water, scratches, stains, and heat.
For optimal productivity, the desk's height can quickly and easily change between 66 cm to 131 cm (about 2 feet to 4 feet), making it suitable for average users ranging from 5 feet to 6 feet 6 inches.
What types of dining tables are available?
The dining table is typically the most vital furniture piece, especially in dining rooms with limited space. 
Many space-saving dining tables include extensions and addons to expand or contract their size. If you have a small apartment but occasionally have guests, having a table that can expand to accommodate them is an excellent investment. 
Below are a few of the most outstanding space-saving dining tables currently available, which are especially helpful during the holidays and other special occasions for people working with tiny rooms.
Each furniture item can be an extra shelf, a desk for studying, or a dining table for entertaining guests. These tables can be extended and have separate functions to meet your changing demands. You may tuck them away discreetly in the kitchen or the living room when not used. In addition, some feature two shelves and casters that can be locked in place, making them quite mobile.
Wall-Mounted Dining Table
Nothing beats the convenience of a table that can be placed on the wall and out of the way until it's needed. It is the ideal solution to the problem of having insufficient space in a home that is otherwise relatively compact.
These tables have two legs and a flat tabletop, which attaches to the wall in your room. If folded out, it can accommodate two persons. You can then hang it on the wall as if it were a piece of white-colored painting. Now all you need to do is to set it with dining chairs.
Industrial 3-Piece Dining Table and Office Chair Set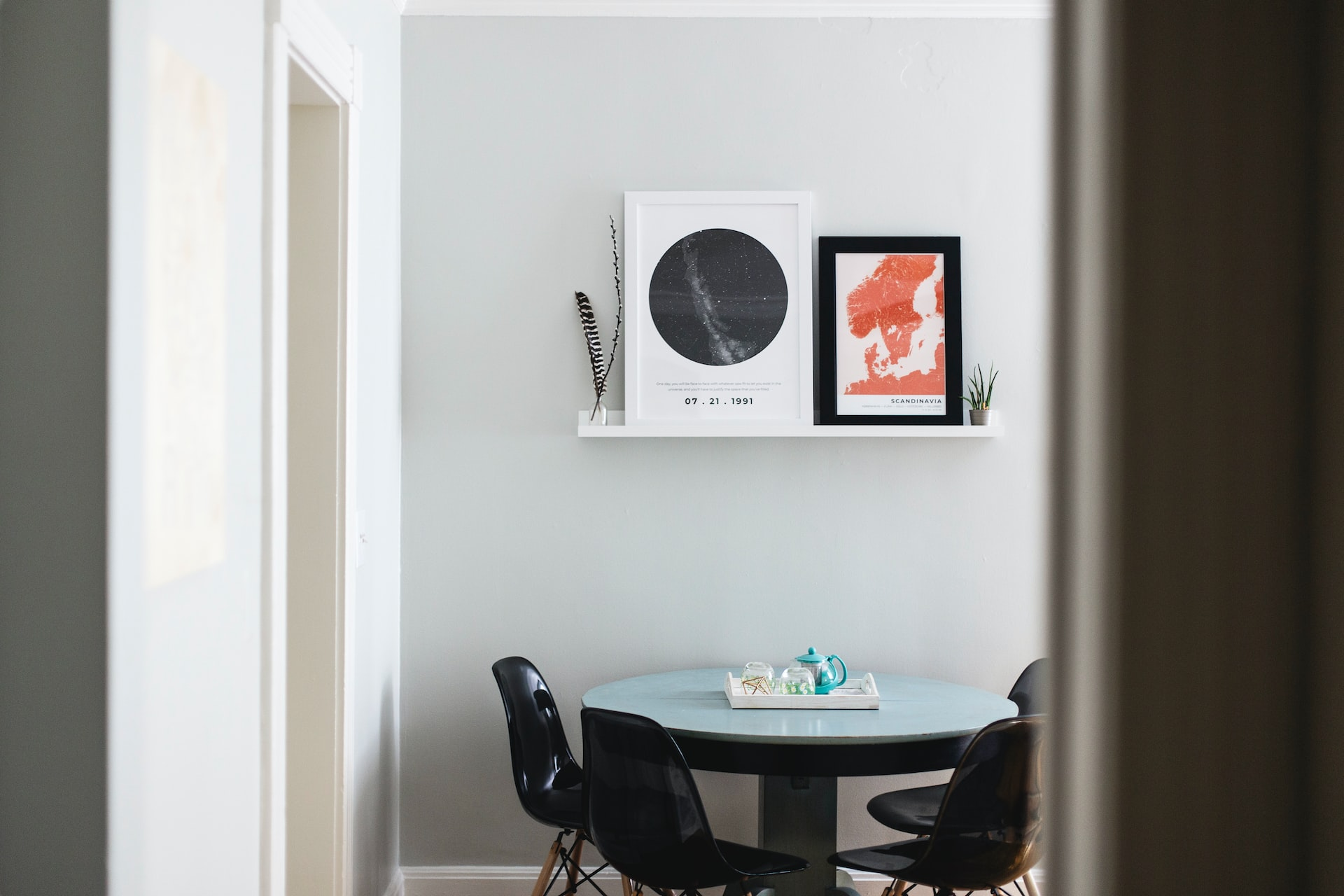 Photo by Kari Shea on Unsplash
Cost and space are two of the primary things to consider for people who live in tiny homes and are on a tight budget. In addition to these benefits, this set of three bar stools is also noteworthy. The dining chairs, similar to bar stools, that can work as office chairs, are designed to tuck under the table out of use.
The table's robust aesthetic makes the frame easy to disassemble and reassemble into multiple configurations. You can quickly transfer the set outside onto a rooftop or other small spot and watch the sunset while sipping wine because it is both lightweight and sturdy.
ODK Computer Desk with Drawer and Storage Space
A corner desk is a wonderful option if you don't have much room but still need a workstation. It occupies a tiny space while providing ample room to operate. You really can't expect any more from such a desk. If you plan to WFH, purchasing a practical and compact table to place in your living room is better. The best-selling color is white, but it is also available in classic black and antique brown.
Tilden Small Space Desk
Although you'll find it at Pottery Barn Teen, this desk is suitable for people of any age because it is constructed entirely of solid wood. It has excellent aesthetic value and is chemical-free (as attested by its Greenguard Gold certification). You can get it in white or in a dark walnut finish.
3-Piece Counter-Height Table with Stools
This counter-height table, complete with its dual matching bar stools, distinguishes itself from the rest of the crowd when it comes to the selection of furniture that looks like a rustic farmhouse.
It is a dining set for two that is not only space-efficient but also comfy and may push it up against a wall while the stools go underneath. You can even mount them while not in use. It has sturdy hardwood legs, a soothing color palette, and a compact design.
Mounted Drop-leaf Dining Table, Small Wooden Desk
If you're residing in a small space and have to convert it from a workplace to a good sitting room, a dining area, and a bedroom in a single day, then this drop-leaf table is a godsend. You can get a bigger version, but there is also a 23" x 15" option for those that require a more manageable workspace. You may get the drop-leaf table in either white or black online.
Frama Shelf Library Natural Desk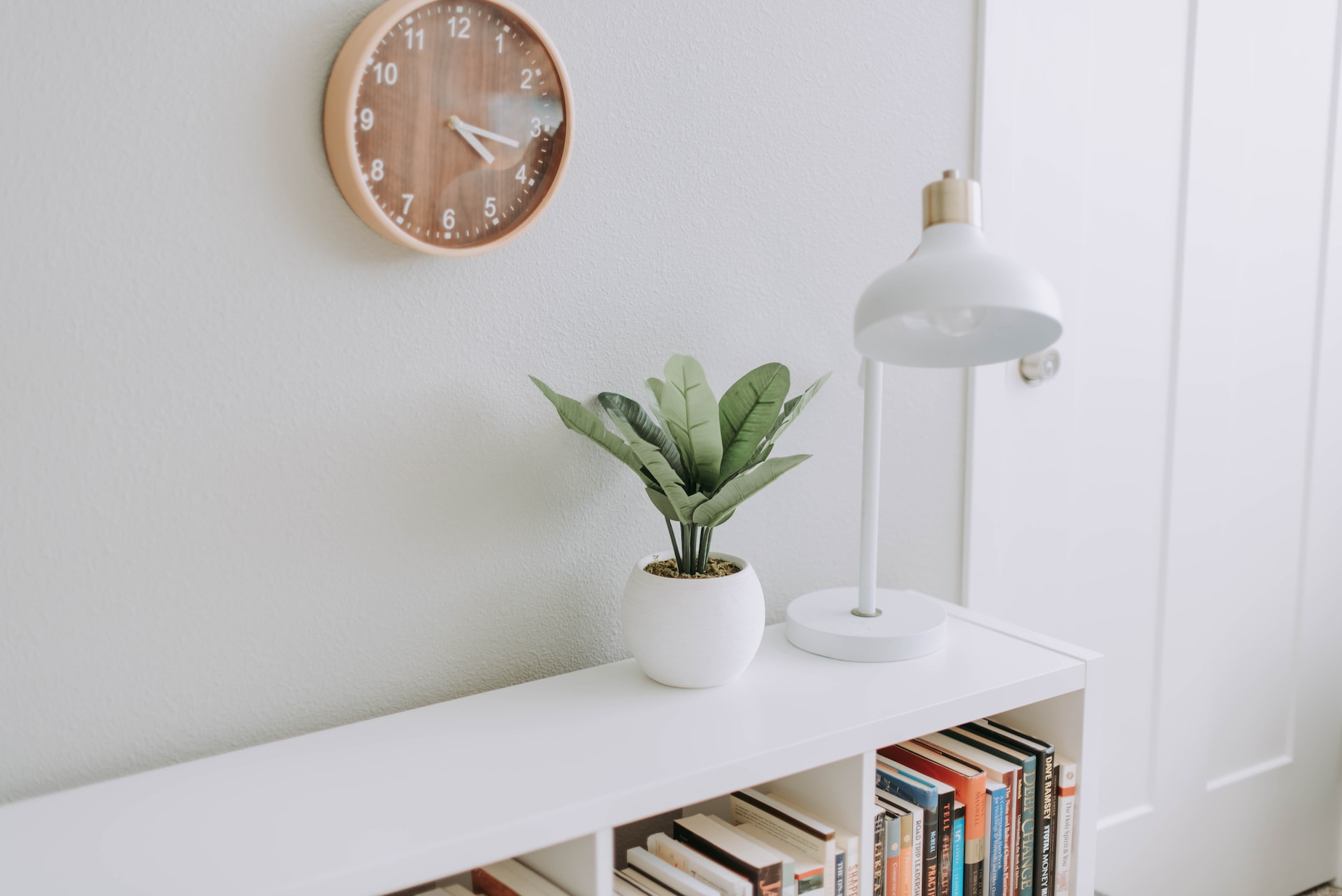 Photo by Samantha Gades on Unsplash
This wall-mounted desk does not need legs, thanks to the combination of steel screws and oak rails that keep it in place. Frama's robust and traditional design has an extensive shelf that may be used as a work area in addition to two shelves perfect for displaying books, plants, and decorative items. You can arrange and place the shelves in any way you see fit.
Round Dining Table in Black and Wood
Most round dining tables don't appear suitable for saving storage space, but these space-saving dining tables are an exception. It has legs of solid beechwood with a contemporary minimalist style, perfect for small spaces.
Mateo Rustic Desk With Drawer
A single, capacious drawer is in the middle of this compact, rustic desk to hold extra items. It comes in either a salvage gray or black weathered finish.
Industrial Mini Desk
This West Elm desk is crafted from wood and bronze metal, lending an urban aesthetic to your office or study. It is hand-crafted in India and available in raw mango, cerused white, or black.
Badillo 5-Piece Compact Dining Set With Storage
Avoid letting a shortage of living quarters prevent you from hosting holiday meals at home. This five-piece table set is the perfect answer to your dilemma. Considering how the seats are stowed, these space-saving dining tables have a modest footprint.
The four cushioned chairs can be tucked away neatly behind the dining table to offer hidden storage for extra napkins, blankets, pillows, etc. This compact dining set will fit into even the tiniest apartments.
Solid Wood Convertible Dining and Coffee Table
You may use this convertible dining table as a coffee table in the daytime and convert it into a dining table for dinner simply by adjusting the height of the tabletop.
Bekant Left Sit-Stand Corner Desk
The height of this compact corner desk, which saves valuable floor space by fitting neatly into a corner, may be changed to suit your needs. This is a fantastic find because not many height-adjustable corner desks are available on the market. Its aesthetic is very fresh and modern, and you'll adore it.


Custom Style Desk for Kid's Room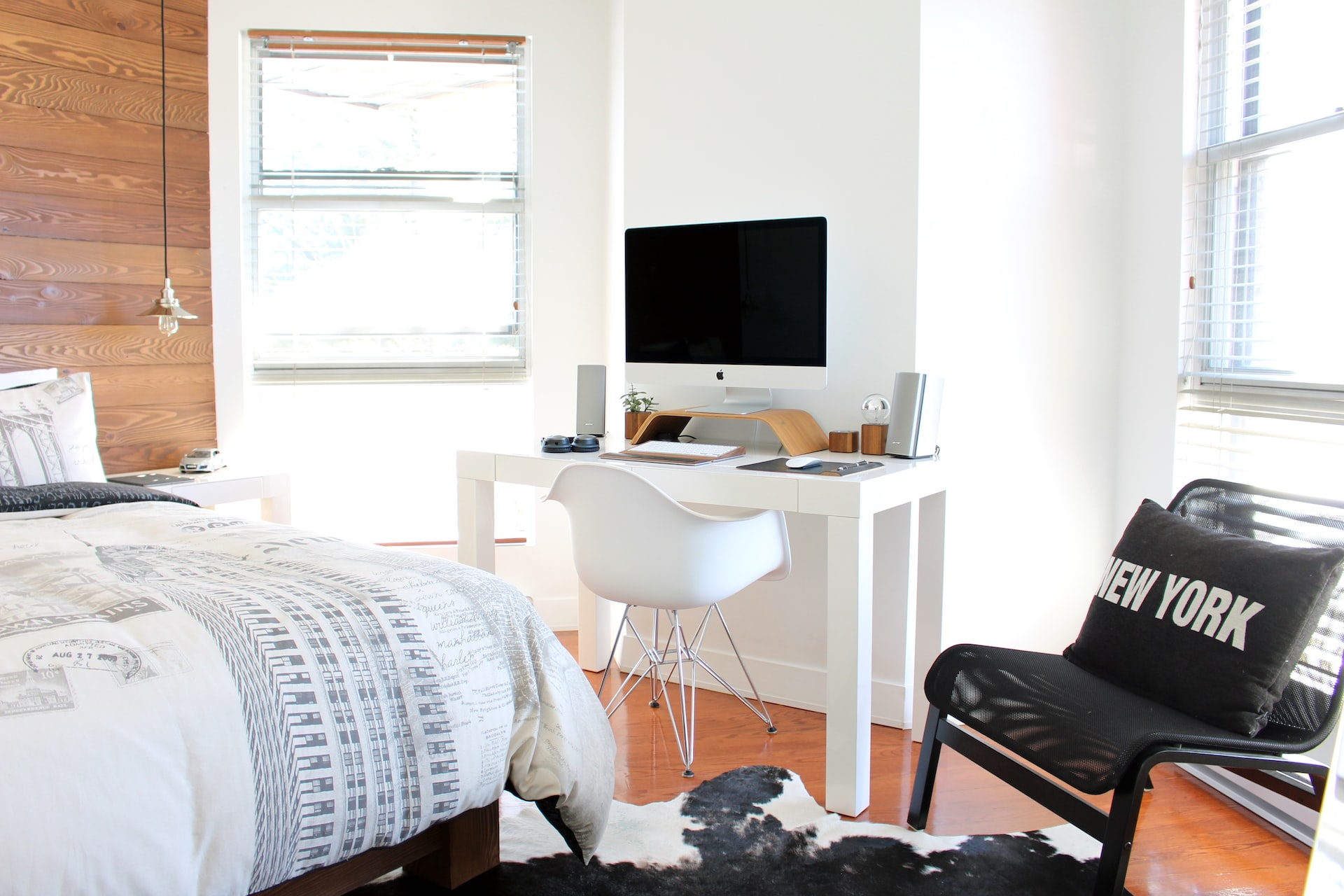 Photo by Gabriel Beaudry on Unsplash

Large, heavy pieces of furniture can seem claustrophobic in areas with limited floor space, such as bedrooms for children; as an alternative, why not consider something else? This timeless piece of furniture mimics a vintage look with two iron cast legs that are the ideal height for your child to read or complete schoolwork.
White Compact™ Pneumatic Height Adjustable Standing Desk
Desks that allow you to modify the height don't have to be huge and cumbersome. This small desk is a perfect example due to its low profile and metal frame. You are provided with an adequate space in which to work without negatively impacting the aesthetic of the bedroom or living room.
White Dining Table With Shelving
It is possible to have a fully functional kitchen, dining room, and ample space, even in a small house. You can do it all with the help of this bookshelf and dining room table. It's disguised as a white bookcase, but it's a two-seater table.
The lower shelves of the bookshelf can serve as storage space for dishware, cookbooks, and other kitchen necessities. You can place it in the dining room, the hallway, or the edge of the living room.


Buylateral Corner Desk With Hutch
This desk and hutch set from Target can help you maximize your space and make it more functional by transforming any available room into a functional office. The desk features a ledge shelf at its base and an extra work area. The space-saving design of this compact desk makes it ideal for several uses. It's available in stores in both white and black.
Threshold Falkland Wood Desk With Shelving Natural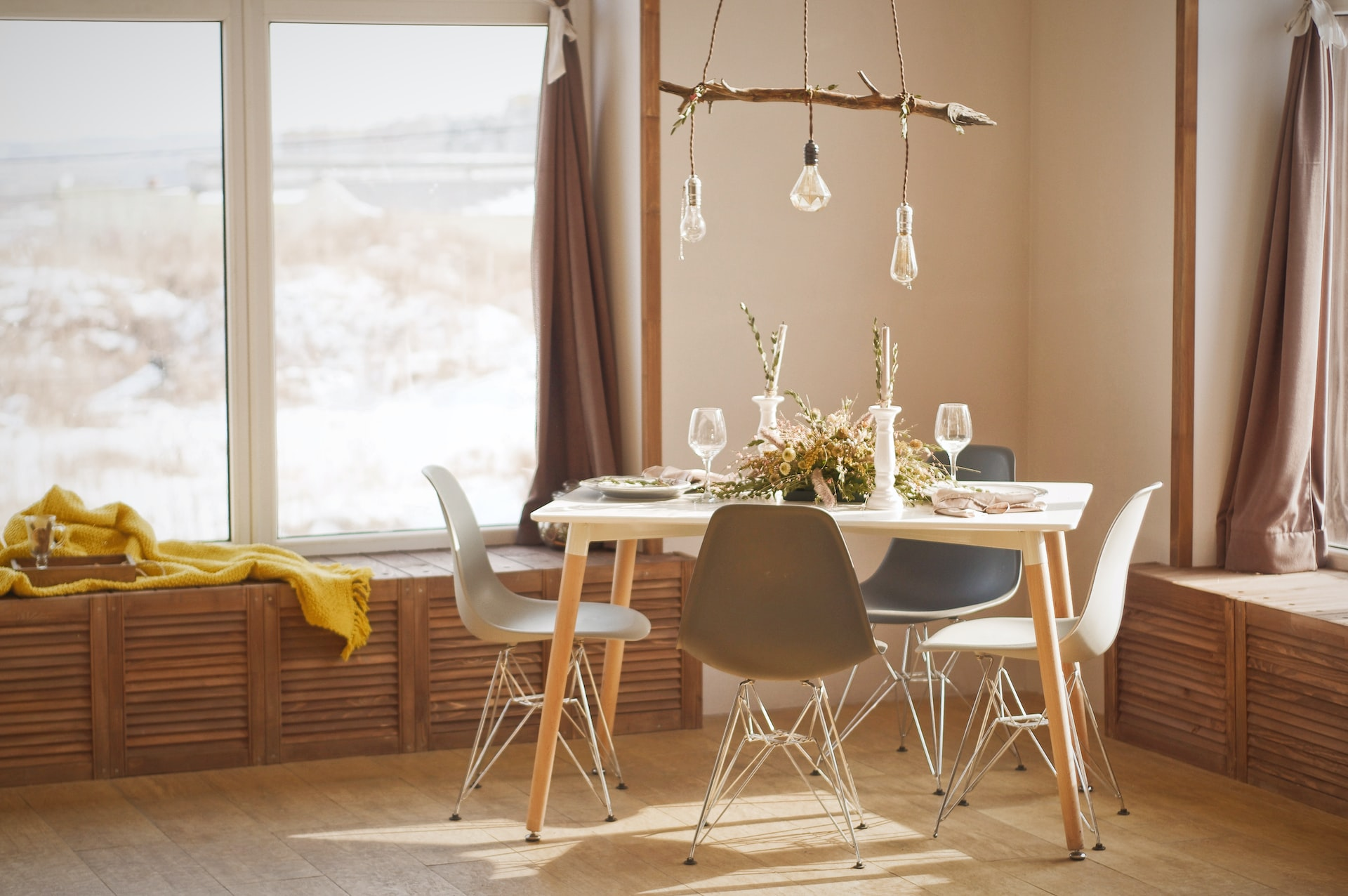 Photo by Daniil Silantev on Unsplash
The robust wood construction of this stepladder desk ensures that it will last for years. It can double as both a place to write and store books, and the open shelves can also help keep other items or become a place to showcase artwork.
Prepac Tall Floating Desk White
You can put this floating desk wherever you like; it provides a work area if you require it and folds neatly out of the way when you don't. This bargain from Target can serve as a kitchen homework center, a bedroom study area, or a Zoom center in a small apartment.
Wood Lift Top Coffee Table With Hidden Storage Compartment and Side Drawer
A coffee table that converts into a workstation can help someone living the WFH lifestyle, lacking a dedicated workspace. The coffee table's surface gradually ascends to desk height (and effortlessly accommodates plenty of storage space). You may purchase this coffee table in either black or brown.
Livingston Writing Desk with Bookcase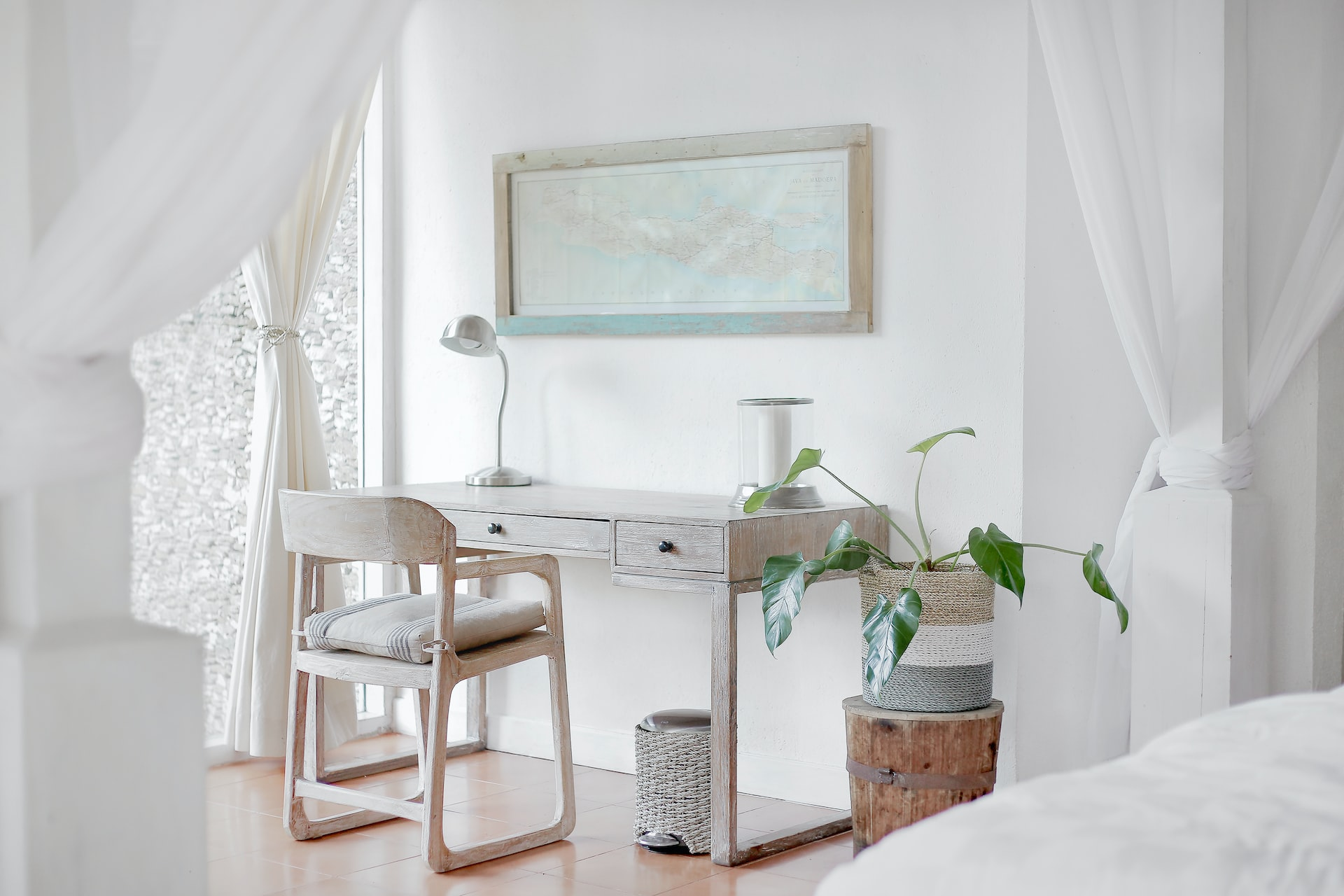 Photo by Hutomo Abrianto on Unsplash
This exquisite find is reminiscent of a high-end desk in its aesthetics and functionality; the only difference is that it is more compact. It has decorative moldings, fluted columns, hand-applied coatings, a drawer, and plenty of space for office supplies. It comes in various colors, including brown wash, dusty charcoal, Montauk white, and gray wash.
Tips to Maximize Your Space
Choose Desks that Are Also Decorative
Try not to choose a desk solely on its practicality. It must blend in with the interior of your home so that even when it is not in use, it does not appear out of place. For instance, a room with a vintage-inspired aesthetic can look off-balance with an ultra-modern workstation, and a sleek and contemporary area might not look appealing with a table of weathered wood. This functional work desk is an excellent example of how to choose furniture for a space so that it serves its purpose but still stands out as an individual piece of decoration.
Add a Bed-end Desk
When your bedroom doubles as a workspace, you should consciously create some physical distance between the two (and don't allow your bed to become a workspace). This workstation arrangement at the foot of the bed is a pleasant departure from the customary placement of desks against neighboring walls. This arrangement demonstrates how a desk can be successfully positioned even in a bedroom that is on the smaller side.
Use Awkward Spaces by Converting Them into Workstations
After all of the furniture has been arranged in a room, there may be nooks and crannies along the walls or corners that are too small to accommodate other pieces but would be ideal for a desk. Look around your bedroom; you might find tight spaces between two dressers that you may convert into an excellent location for a work area.
Put Some Plants on Your Desk
An office desk can be an uninviting and clinical environment. Introduce some plants here and there to spice up the files and pen organizers in the office, and take advantage of the numerous benefits plants offer while you are working. Plant enthusiasts that do not have room within the house to add to their assortment stand to benefit from this circumstance in more ways than one. Make sure you know whether your workspace receives a lot of natural light so that you may select plants that thrive in that particular setting.
Choose Simplicity
Life is more than work; when it comes to combining your professional and personal lives, go for essential pieces to avoid feeling like you're always working from home. A minimalist desk and office chair will look sleek, design-friendly, and not overly formal but can offer a comfortable space to focus and cross things off your to-do list.
Leverage the Wall as Support
Small spaces may not usually allow for a full-sized desk. Where do we find this magic bullet? Use the wall as support rather than an extra leg. LeClair Decor used this strategy by constructing a desk out of two pieces of wood, with the top piece attached to the wall for solid support.
Add Shelving to Make Better Use of Your Space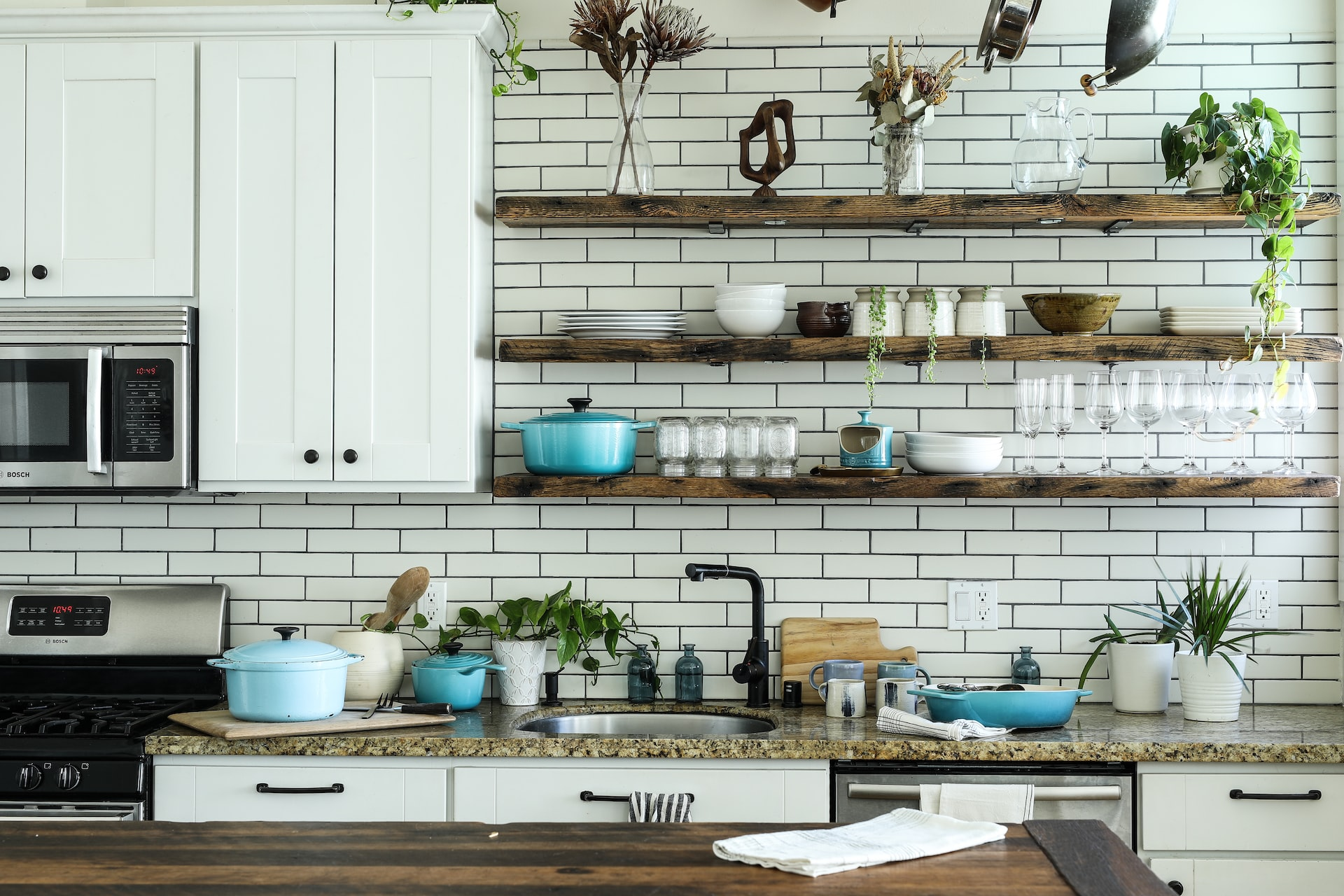 Photo by Edgar Castrejon on Unsplash
Look into additional shelving units if you want to minimize the amount of decoration and supplies on your desk. This will allow you to make room for other office supplies and decorative items. If you want floating shelves, you won't need to locate any additional small spaces to accommodate a floor-bound side table or filing cabinet.
Make Use of the Windows
Because any other pieces of furniture do not typically occupy it, the area directly beneath windows is ideal space for installing a desk. Before bringing in a dining table or office table, take measurements of the space, and then arrange the area that is pleasant to thrive and work in; you will earn bonus points for the design if you choose a window with a nice view.
Design a Cut Out
You may carve off a workspace in your house using wallpaper, a partition, or a coat of paint without declaring a whole room your home office. The striped divider provides the ideal visual separation between the dining area and the office space you painstakingly designed within this room.
Build a Floating Desk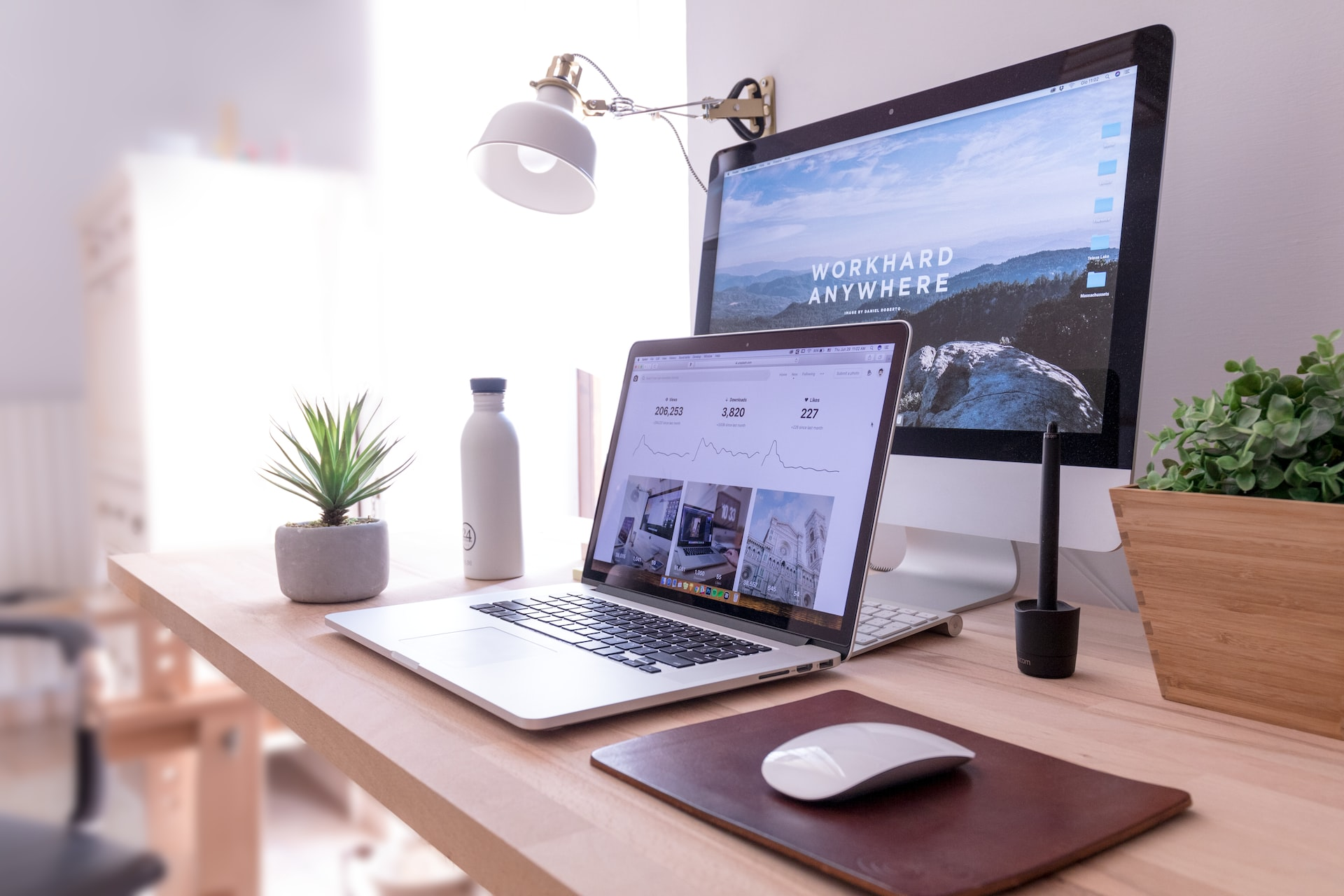 Photo by Domenico Loia on Unsplash
Turn floating desks like these into corner desks that aren't quite big enough for an actual office but are adequate for a workspace. The floating desk is multipurpose enough to serve as a weekend reading nook and a temporary workplace.
Find Furniture that is Open and Airy
Even if it doesn't make sense at first, there are occasions when the ideal location is right in front of you. In an expertly designed home, there is a space in one of the rooms that are just the correct dimensions for a modest desk, and that is precisely what any homeowner should put there. The nook might look like it doesn't have much room, but because it's located in a corridor, there are many small spaces, so you won't feel squished or confined.
Conclusion
If you take the appropriate measures, even a little room in your house can become a functional home office. Increase your productivity and reduce the risk of physical harm by using small spaces for several purposes, incorporating good lighting and ergonomic tools.
Hopefully, this detailed guide on ergonomic small space table and work desk will inspire you to choose at least one suggestion for your home office. Undoubtedly, your older self will be grateful for the changes you incorporate today in the years to come.
But remember that a well-designed desk in your small space is only one component of a healthy lifestyle. You should also make time for regular physical activity, healthy eating, proper ventilation, excellent lighting, and sufficient rest.